The Mediterranean Sea

Sainte-Maxime ideally located in the heart of the Gulf of Saint-Tropez, is an exclusive destination on the Riviera. Sainte-Maxime is a tranquility haven where strolls by the sea invites you to live moments that you would like to be everlasting. This little piece of paradise between land and sea harbours numerous beaches where bathing, relaxing and water activities are combined with a soothing and family atmosphere.

With 11 kilometers of Mediterranean shoreline, Sainte-Maxime invites to the delights of the beach. Whether you are with family, friends or as a couple, the atypical and full of charm beaches fulfil all your desires.

Sainte-Maxime and its constant desire to environmental protection and reasoned development have been rewarded since 1987 with the grant of the famous European label "Blue Flag". This label recognises and guarantees bathing water quality and environmental performance.

The beaches and fields of posidonia (algae-like sea plants found on Mediterranean beaches) represent a natural environment that everyone must seek to preserve.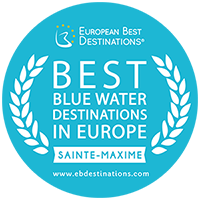 Sainte-Maxime was selected "Best Blue Water Destination" in July 2017 for the quality of its crystal clear waters!